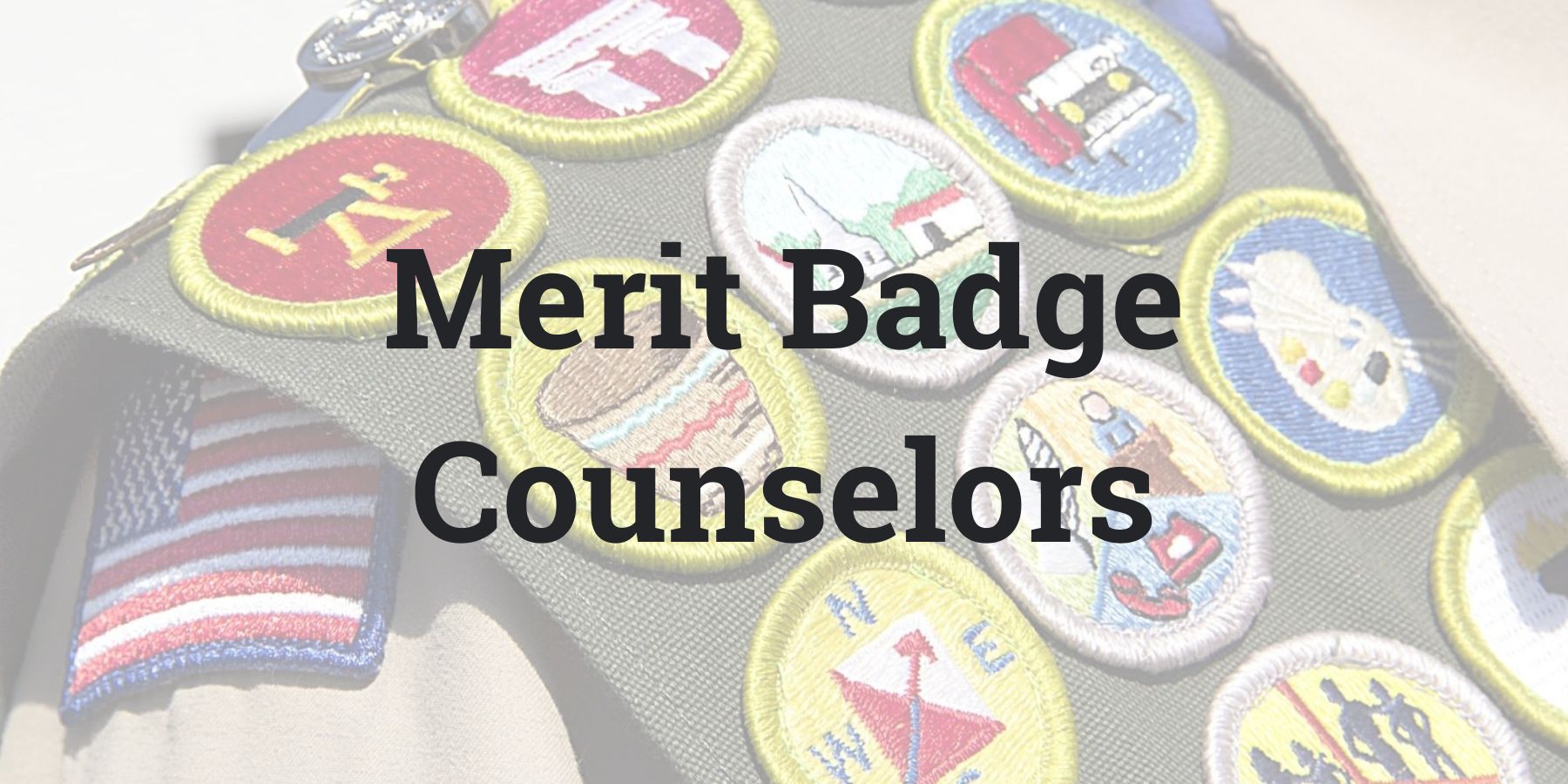 Merit Badge Counselor lists are only available thru ScoutBook. 
This list can be accessed by the Scoutmaster, Assistant Scoutmasters, or Advancement Chairs, and the unit Committee Chair.  Parents do not have access to the merit badge counselor list.  This supports Scouting and the merit badge process in which a Scout should talk to their Scoutmaster prior to starting a merit badge.  It's the Scoutmaster's job to provide a scout with a blue card and a counselor's name and contact information. 
Want to become a Merit Badge Counselor?
That's great!  Scouts need people like you to share your knowledge and help them learn.  There is some training and a registration process.
You will need to complete Merit Badge Counselor training.  This is offered a few times a year as in in-person class at Roundtable and also on-line at 

my.scouting.org
If you're taking the online training, you will need to complete both of the following courses:
              Merit Badge Counselor – Before the First Meeting

              Merit Badge Counselor – Position Specific Training    

Merit Badge Counselors, like all youth facing volunteers, need to complete BSA's Youth Protection Training.  You'll find that at my.scouting.org  

California law requires all youth volunteers to complete a livescan fingerprint background check.  This is a one time requirement.  If you've already done  this for Scouting, then you do not need to do it again.  If you have not yet completed the background check, more information is available at 

https://californiascouting.org/
You will need to complete the Merit Badge Counselor Information form and list the badges you would like to counsel.  Orange County Council has a policy allowing up to 12 badges per counselor.
Lastly, you will need to complete an online BSA registration form to register for the position of Merit Badge Counselor.   There is no cost to register as a Merit BAdge Counselor.
I've taken the training, registered online, and filled out the Information form, what's next?
Good for you!  It can seem like a lot to do, but you're on the the way and the scouts will really appreciate your help!
Email the following items to Julie Koch, Saddleback District Merit Badge Coordinator.  Her email is anotherjulie2015@gmail.com 


Merit Badge Counselor Information form
Certificate of completion for Merit Badge Counselor training


DO NOT submit this information directly to the Council Office.  That will delay them getting to the right people and they may become lost.
What next?
Your BSA application will be signed and forwarded to OCBSA for review, check and entry.
Individuals can begin counseling Scouts under a grace period after the District Merit Badge Coordinator has sent an acknowledgement to you.
Approval can take a few weeks.  Once it's completed at council, you should receive an email from BSA.  Another way to check that it's complete is to go to my.scouting.org, log-in, and click on the dropdown next to your name in the top right corner.  Under My Profile, you will see Merit Badge Counselor listed as one of your registered positions.